The First and Only Online Fanzine Devoted to the Life and Works of Edgar Rice Burroughs

Master of Imaginative Fantasy Adventure
Creator of Tarzan
and
"Grandfather of American Science Fiction"
ERBzine 0127




The Many Worlds of



"The master of imaginative fantasy adventure...
...the creator of Tarzan and...
...the 'grandfather of science-fiction'"
ERB COMPENDIUM T7-7



MAJOR BURROUGHS
ERB's LONG ASSOCIATION
WITH THE MILITARY



Reference:
American Memory Site
Library of Congress
Bloomfield Historical Society
Motes & Quotes Website
A Biographical Sketch by George T. McWhorter
Burroughs Bibliophiles Bulletin
ERB Photos are Copyright ERB, Inc.
"... An influenza epidemic in 1891Chicago caused ERB's parents to send him to Idaho where older brothers Harry and George, with partner Lew Sweetser, owned the Bar Y Ranch in Cassia County. The city boy loved horses and became an expert bronco buster. -

"That Fall he was sent to Phillips Academy at Andover, Massachusetts. Popular, ERB was elected class president but disliked the formal curriculum and ran away. ERB's father, a Union cavalry officer during the American Civil War, believed a military school might benefit his son. At Michigan Military Academy, Orchard Lake (Fall 1892), ERB's commandant was Captain Charles King, a name he later used in his novels. ERB was on the football and cavalry teams and was editor-in-chief and artist for the student newspaper The Adjutant. He remained at Michigan Military Academy after graduating in 1896 as Assistant Commandant; a Professor of Geology, Cavalry and Gatling Gun."
Excerpts from: A Biographical Sketch by George T. McWhorter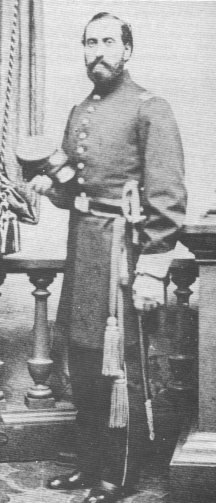 Major George Burroughs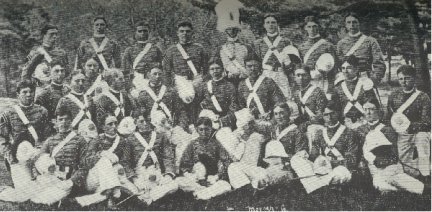 Cadet Burroughs (unverified)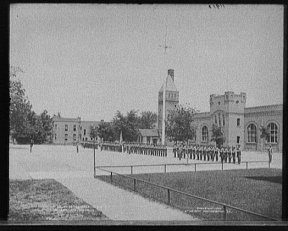 Michigan Military Academy 1890s
---

Michigan Military Academy Yearbook 1892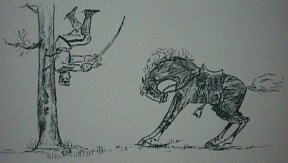 Sketch by ERB ~ M.M.A. Yearbook, 1892

---
ERB Address to the 1894 MMA Graduating Class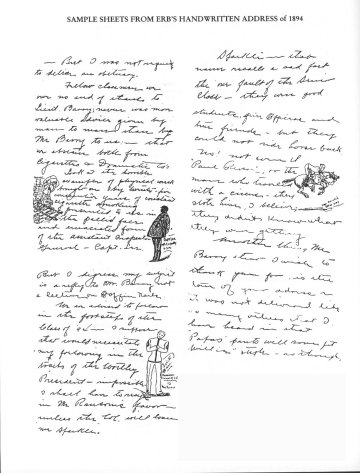 In his role as Class President for 1895, Ed Burroughs gave the address to the 1894 Graduating Class at Michigan Military Academy, Orchard Lake, Michigan. The e-text of ERB's address to the 1894 Graduating Class is contained in:
ERB Motes & Quotes v.31
http://www.erbzine.com/mag0/0031.html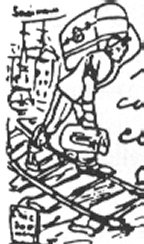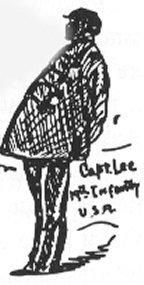 Some of the ERB-drawn cartoons on his handwritten address sheets include: a student leaving by train, the "pallid face and emaciated form" of the Assistant Inspector General, ERB as Class President for 1895, and as Paul Revere on his "rapid ride."
---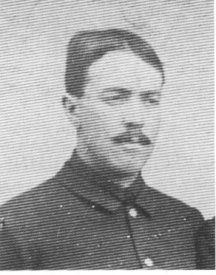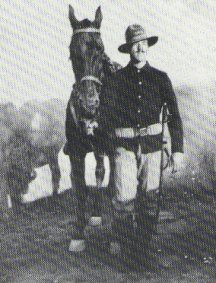 After his graduation, from the Michigan Military Academy he was appointed to the United States Military Academy at West Point by a member of the United States House of Representatives, Edgar Wilson, but he failed his entrance examination and did not enter the Academy.

He then went back to the Michigan Military Academy in 1895, and served as assistant commandant for less than a year. He abruptly resigned his position, and with his fatherís permission, on May 13, 1896, he enlisted in the US Cavalry at the age of twenty. He was assigned to Troop B, 7th US Cavalry at Fort Grant in the Arizona Territory.

Burroughs was very unhappy with the boredom of mundane work in the desert as a private with the Cavalry. Therefore, in August 1896, only three months after enlisting, he wrote to his father discussing buying himself out of the Cavalry, or transferring closer to home, or better yet, getting a medical discharge because of his poor health.

His father, being an influential businessman, and having many influential friends managed to get the attention of the Secretary of War. The government, moving very slowly, finally came up with the discharge for Burroughs on March 23, 1897, seven months later.

---

Ed moved back to Idaho where he found work with his brothers. It was there he heard that Theodore Roosevelt was assembling his Rough Riders to join in the recently declared war between Spain and the United States. Still having military ambitions, Burroughs wrote directly to Roosevelt volunteering for the Rough Riders. The response was prompt, terse, and disappointing:
First Regt. U. S. Vol.
In Camp near San Antonio, Texas
May 19th, 1898
Edgar Rice Burroughs
Pocatello, Idaho
Dear sir,
I wish I could take you in, but I am afraid that
the chances of our being over-enlisted forbid
my bringing a man from such a distance.
Yours very truly,
T. Roosevelt
Lt. Col.

Edgar Rice Burroughs wandered aimlessly through a variety locations and jobs for many more years. Finally, in 1911, he wrote his first published story. He had finally found his niche in life, and soon became a famous and very successful writer but he never totally gave up his interest in the military. The following pieces of military-related writing which appeared during the Great War certainly bear this out. The sources for this material are the ERB Illustrated Bibliography and ERBzine Websites:


---


1917
"The Little Door" (unpublished - 2,800-word short story)
A review and synopsis of this unpublished violent and bloodthirsty
anti-German propaganda short story written November 17-23, 1917
is found at: ERB Motes & Quotes v.34
http://www.erbzine.com/mag0/0034.html


---


1918

---


"Patriotism by Proxy" WWI Article - May 25
Oak Leaves


---

"Peace and the Militia" WWI Article - November 16
Oak Parker

---

"A National Reserve Army" (Army-Navy Journal - August 31, 1918) Wanted--Good Citizens!
ERB's Proposal for a National Reserve Army, in a
letter to the Army and Navy Journal (August 31, 1918)
Electronic Text: ERB Motes & Quotes v.31
http://www.erbzine.com/mag0/0031.html

---

"Go To Pershing" - A WWI Article
Military Training Camp Association

---

"Home Guarding for the Liberty Loan" -
WWI Speech delivered at Flag Day exercises

---


"Paris, December 30 (By Special Cable)"
Daily Reporter - Coldwater, Michigan

---


ERB Motes & Quotes v.52
An Unbelievable "Autobiographical Sketch"
In his own words Mr. Burroughs describes his exciting military exploits
http://www.erbzine.com/mag0/0052.html


---

NEW BOOK OF UNPUBLISHED EARLY ERB

Guidry & Adkins, Publishers, is proud to announce the Tarzana Project, a serious effort to bring into print in bok form all of the remaining unpublished and /or uncollected works of this celebrated author.

FORGOTTEN TALES OF LOVE AND MURDER will be the opening entry in this ambitious endeavor. Drawn from manuscripts that have been locked away a half-century and more in the vaults of the Burroughs corporation in Tarzana, California -- and prepared with the cooperation and assistance of Danton Burroughs, grandson of the author, and of Edgar Rice Burroughs, Inc. -- this limited-edition hardcover will be modeled on the highly collectible first editions published during Burroughs' lifetime by A. C. McClurg and Edgar Rice Burroughs, Inc., complete with dust jacket and interior illustrations.

If you'd like to be notified when they begin accepting orders for this book and kept informed of the progress of the Tarzana Project, click on the link below and send, as is:
Tarzana Project News ~ treasure.mountain@sstar.com

---


Mr. Burroughs was not to fully realize his dreams of active military involvement until World War II when he finally found
himself in the right place at the right time. After witnessing the Japanese attack on Pearl Harbor, he went on to become the
war's oldest war correspondent. Despite failing health, he actively covered the entire Pacific theatre in search of stories.
See Motes & Quotes v.01
http://www.erbzine.com/mag0/0001.html

The oldest war correspondent of WWII
---


. WEBJED: BILL HILLMAN .


Visit our thousands of other sites at:
BILL & SUE-ON HILLMAN ECLECTIC STUDIO
Some ERB Images and Tarzan© are Copyright ERB, Inc.- All Rights Reserved.
All Original Work ©1996-2002 by Bill Hillman and/or Contributing Authors/Owners
No part of this web site may be reproduced without permission from the respective owners.